Cloud Computing Overview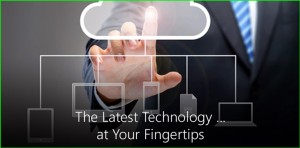 Cloud computing, often referred to as simply "the cloud", is defined as "the practice of using a network of remote servers hosted on the Internet to store, manage, and process data, rather than a local server or a personal computer". It is the on-line delivery of on-demand computing resources – everything from email, data to package and custom applications. It is also know as Application Hosting or Hosting Service.
The term "moving to cloud" also refers to an organization moving away from a traditional CAPEX model (buy the dedicated hardware and depreciate it over a period of time) to the OPEX model (use a shared cloud infrastructure and pay as one uses it).
Although cloud computing has changed over time, it has always been divided into three broad service categories: infrastructure as a service (IaaS), platform as a service (PaaS) and software as a service (SaaS).
NexStep is an IaaS provider that supplies virtual server instances and storage, as well as application program interfaces (APIs) that let users move workloads to a virtual machine (VM).
Cloud computing allows companies to avoid upfront infrastructure costs, and focus on projects that differentiate their businesses instead of on infrastructure. Our law firm clients get the greatest cost savings in the NexStep Cloud by taking advantage of our unlimited, flat rate, monthly pay-by-usermodel.
NexStep utilizes virtual servers running on physical servers that are shared by multiple users. The NexStep Cloud provides the benefits of high-end technology and world class security based on law practice management to lawyers who would otherwise be conflicted by the economic and management choices between the professional reality of e-filing, e-discovery, email, and data mining and the highly probable vulnerabilities and risks inherent in cyberspace with an in-house system.
To eliminate this concern, NexStep cloud computing has been designed to adhere to best practices, as expressed by state bar opinions and guidance, regarding lawyer's ethical duties to clients and the court.
Cloud Computer – Application Hosting for Lawyers & Law Firms
Cloud computing has started to obtain mass appeal in small and medium size law firms. The benefits of cloud computing is currently driving adoption in the law firm sector where there is often a lack of time and financial resources to purchase, deploy and maintain a high end, secure, and latest technology computer infrastructure.
NexStep cloud computing for small law firms provides these latest law firm technology and allows lawyers to utilize their cloud storage while they are only paying for what capacity they need at any moment in time.